Casino Pauma
Tribal Organization: Pauma Band of Luiseno Mission Indians
CASINO PAUMA
777 Pauma Reservation Road
Pauma Valley, California 92061
(877) 687-2862
(760) 742-2177
Free Slots ... Free Table Games ...
No sign-up. Play over 300 slots and casino games FREE! Just select
Practice Play
or
Real Play
at
Bovada
. US Players Welcome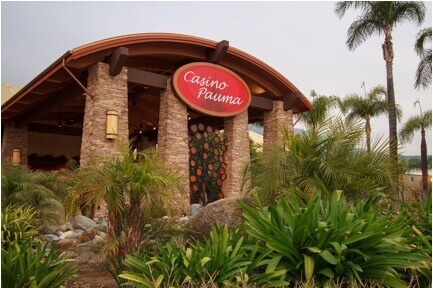 Bovada's 100% Sports Welcome Bonus
For a limited time only get a 100% matching welcome bonus up to $250. Live Odds on all sports! US Players Welcome

Gaming
Nestled in the citrus groves in the heart of Pauma Valley, Casino Pauma features a warm comfortable and contemporary atmosphere with the friendliest staff around. With over 40,000 square feet you can enjoy 1050 of the hottest most exciting slot and video games plus 16 table games and a 5 table Poker Room, three delectable dining options including the 'Best Buffet value in the Valley' the Grove Buffet and select live entertainment in the Pauma Pavilion and Red Parrot Lounge.

Casino Pauma features:
1,050 slot machines - both Reel and Video (penny to five dollars)
New 3D Slot experience
21 Table Games, including Blackjack, Roulette, Pai Gow Poker Plus and Live Poker
Minimum gambling age is 18
Restaurants
Grove Buffet: The best buffet value in the Valley! Features fresh, organic local products and savory stations, including a pasta station and prime rib nightly.
Monday-Friday Buffets:
Lunch: 11AM-4PM, $8.95 per person
Dinner: 4PM-9PM, $12.95 per person
Saturday & Sunday:
All Day Buffet 10AM-9PM, $12.95 per person

Pauma Cafe: All-day menu in a casual setting. Daily specials include a 2 for $20 Prime Rib Dinner, starting at 5PM every night.
Sunday-Thursday: 7AM-10PM
Friday & Saturday: 7AM-2AM


Casino Pauma Deli & Pizzeria: Open 24 hours daily, 7 days a week. Here you can order incredible pizzas, fresh salads, sandwiched, hot dogs, or nachos. Pastries and desserts are baked fresh daily.

HAPPY HOUR TWICE DAILY: 11AM-1PM & 5PM-7PM
At both the Triple Seven Bar and Red Parrot Lounge

Triple Seven Bar: Open daily from 10:30AM-Midnight

Red Parrot Lounge: A tempting drink menu all in an intimate atmosphere steps away from the exciting gaming action, featuring live entertainment Friday and Saturday nights. Open daily from 10:30AM-2AM.


Latin Night every 3rd Thursday of the month
8PM-1AM | No Cover
Dance to salsa and the hottest Latin rhythms and enjoy great food and drink specials!
Pauma Pavilion
An outdoor covered venue with seating to accommodate 800, the state-of-the-art lighting and sound system plays host to live concerts, events and more!
Shuttles
Casino Pauma shuttle service, Thursday thru Sunday:

Oceanside & Escondido
Morning: to Casino Pauma
Pick Up at Coco's in Oceanside (behind restaurant) - 10:15 am
3905 Mission Ave, at the 76

Pick up at Oceanside Transit Center - 10:35 am
Pick up at Escondido Transit Center - 11:05 am
Pick up at El Norte Plaza in Escondido - 11:25 am
Arrive at Casino Pauma at 12:15 pm
Leave Casino Pauma 4:15 pm

Afternoon: to Casino Pauma
Pick up at El Norte Plaza in Escondido - 4:55 pm
Pick up at Escondido Transit Center - 5:05 pm
Pick up at Oceanside Transit Center - 5:40 pm
Pick up at Coco's in Oceanside (behind restaurant) 6:10 pm
Arrive Casino Pauma 7:05 pm
Leave Casino Pauma 10:30 pm

Menifee to Casino Pauma
Pick Up Town Center parking lot, in Menifee, Newport & 215 Fwy, by Hedge between living spaces and Bank of America (Address: 30251 Antelope Rd. Menifee, CA 92584 - 8:20 am

Old Town Temecula to Casino Pauma
Pick Up at Sam Hicks Monument Park, Curbside in Old Town Temecula (Address: 41970 Moreno Rd, Temecula, CA 92590 - 9:00 am

Arrive Casino Pauma - 9:45am
Leave Casino Pauma - 2:30pm

If you decide to stay and play all night, another shuttle departs Casino Pauma at 9:30 am