Wisconsin Indian Casinos SuperSite!
Wisconsin Indian Casinos
Wisconsin has 11 federally-recognized Native American tribes that own and operate casinos under the Federal Indian Gaming Regulatory Act of 1988. To comply with that Act each tribe has negotiated and signed a gaming compact with the State of Wisconsin to define the rules, regulations and conditions for gaming.
Voted "#1 Favorite Casino | Best Slots"
Favored by 500 Nations players,
Bovada
is a world-class online casino with slots, poker, table games, sports and horse betting! Join now and get the $3,000 Welcome Bonus. US Players Welcome

Wisconsin Casino Directories
News
07.25.2017

Ho-Chunk opens expanded casino in Black River Falls
05.16.2017

Potawatomi Hotel & Casino plans hotel expansion
05.03.2017

All New St. Croix Casino Hertel celebrates opening
09.24.2016

$153M Renovation Projects Planned for Ho-Chunk Gaming
News Archive
Casino Map
Click on any of the Wisconsin counties on the map below to find local casino information, or scroll below the map to search an alphabetical listing of counties and their casinos.
To find casino information using an alphabetical listing of casino names, go to our page Wisconsin Casino List. You can also go find casino information by going to our page Casinos by Tribes or Casinos by Cities.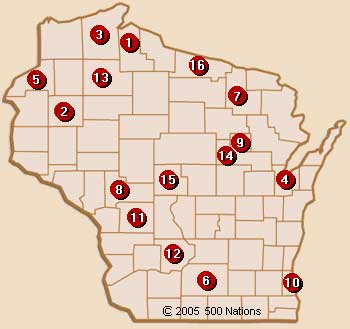 COUNTY
CASINOS
CITY
Ashland County
Bad River Casino
Odanah

---

Barron County
St. Croix Casino Turtle Lake
Turtle Lake

---

Bayfield County
Legendary Waters Resort and Casino
Red Cliff

---

Play USA Online Poker ... Oh, Yeah!

Poker is back at

Bovada

. Get the 100% Welcome Bonus up to $500 and see why

Bovada Poker

is better than ever!

---

Brown County
Oneida Main Casino
Green Bay
Oneida IMAC Casino/Bingo/OTB
Green Bay
Oneida Mason Street Casino
Green Bay
Oneida One-Stop Packerland
Green Bay
Oneida Casino Travel Center
Pulaski

---

Burnett County
St. Croix Casino Danbury
Danbury
St. Croix Casino Hertel
Webster

---

Dane County
Ho-Chunk Gaming Madison
Madison

---

Forest County
Potawatomi Carter Casino Hotel
Carter
Mole Lake Casino
Crandon

---

Jackson County
Ho-Chunk Gaming Black River Falls
Black River Falls

---

Kenosha County
Hard Rock Kenosha Casino (canceled)
Kenosha

---

Menominee County
Menominee Casino Resort
Keshena

---

Milwaukee County
Potawatomi Bingo Casino
Milwaukee

---

---

Monroe County
Ho-Chunk Gaming Tomah
Tomah

---

Sauk County
Ho-Chunk Gaming Wisconsin Dells
Baraboo

---

Sawyer County
Grindstone Creek Casino
Hayward
LCO Casino
Hayward

---

Shawano County
North Star Mohican Casino Resort
Bowler
Ho-Chunk Gaming Wittenberg

---

Wood County
Ho-Chunk Gaming Nekoosa
Nekoosa

---

Vilas County
Lake of the Torches Resort & Casino
Lac Du Flambeau

---
100 Free Spins + $2,500 Welcome Bonus
★
Plus Free Daily Bonuses up to 200%
★
Over 600 games!

US Players Welcome
VEGAS CREST CASINO
News Archive
07.06.2016 New Restaurant at Potawatomi Hotel & Casino
06.17.2015 Ho-Chunk Madison to Become Smoke Free
01.28.2015 WI Gov Denies Kenosha Casino
01.19.2015

New Deal for Proposed Kenosha Casino

12.03.2014

Menominee Tribe Hopeful to Build Hard Rock Casino Kenosha
10.07.2014
Native American Business Event Hosted at Potawatomi Hotel and Casino
09.22.2014
Seminole Tribe To Profit From Wisconsin Casino
08.05.2014
Possible Smoking Ban at Lake of the Torches Casino
05.19.2014
Menominee Casino Resort to Complete $8M in Renovations
03.10.2014
Oneida Casino Opens Five New Dining Experiences
02.23.2014

Casinos Improve Lives for Thousands of WI American Indians
12.05.2013 New Changes to Oneida Casinos
10.22.2013

Kenosha Casino Still Opposed by Two Tribes
10.13.2013 Gov Plans Meeting for Kenosha Casino
09.26.2013 Kenosha Casino Opposed by Senate Majority Leader
09.16.2013 Governor Walker does not support Kenosha Casino
09.12.2013 Kenosha Casino Gains Support
08.27.2013

Menominee Wants to Work With Potawatomi on Kenosha Casino
08.23.2013 Proposed Off Reservation Kenosha casino Approved by BIA
06.03.2013 Oneida Casino Breaks Ground On $28M Expansion
04.01.2013 Casino Revenue Down Causing Questions About Kenosha Casino project
02.28.2013 New Casinos Must Receive All WI Tribe Approval
09.20.2012 Shullsburg Casino Project Approved by Lac du Flambeau Tribe
10.21.2011 Kenosha Casino Plans to Resubmit Application
08.04.2011 Lake of the Torches Resort Casino Wins Award
07.20.2011 Player wins $10,000 at Lake of the Torches Resort Casino
02.09.2011 Possible Casino Rejection for Stockbridge-Munsee Tribe
01.10.2011 Poker games in debate at Indian casino
08.03.2010 Lake of the Torches receives record number of awards
07.19.2010 New St. Croix Casino Danbury opens July 30
07.13.2010 "Best Wisconsin Casinos" by Survey
07.10.2010 Potwatomi Bingo Casino wins 16 first place awards
07.05.2010 Indian casinos are exempt from smoking ban
06.08.2010 Middleton resident wins $1 million at Ho-Chunk Madison (Dejope)
05.13.2010 Beloit prepares for second casino application
04.01.2010 Ho Chunk slots pay Delavan man $1.34 million
03.24.2010 St. Croix Chippewa secure funding for new Danbury casino
02.25.2010 Dream Dance Steak recognized by Wine Enthusiast Magazine
01.04.2010 MegaJackpot paid at Potawatomi Bingo Casino
11.12.2009 Kenosha Indian casino approval in 11th hour
11.11.2009 Beloit Indian Casino: Chippewa or Ho-Chunk?
10.29.2009 Menominee Casino Resort plans expansion
09.29.2009 Beloit Casino Project awaits courts
07.30.2009 North Star Casino plans expansion
07.13.2009 Potawatomi Bingo Casino wins 16 Reader's Choice Awards
06.03.2009 Regional Indian casino revenues are $4.4B in 2008
05.18.2009 Menominee tribe sues Fed for denying Kenosha casino
05.01.2009 $129,500 Wheel of Fortune winner at Menominee Casino
04.15.2009 Menominee pushes Kenosha casino outside court
03.10.2009 Supreme Court ruling may impact Wisconsin casinos
01.29.2008 Congresswoman asks new Interior Secretary to reconsider Beloit casino project
01.26.2009 North Star Mohican Casino opens expansion
01.14.2009 Feds reject proposed Beloit Indian casino
01.12.2009 Fed rejects Kenosha Indian casino plan
11.10.2008 Beloit Casino Project
11.07.2008 Menominee sues to suspend decision on Kenosha casino
08.26.2008 Wisconsin's 2007 Indian gaming revenues $1.3 billion (up 7.3%)
07.22.2008 New Potawatomi Casino is one of largest in nation
04.27.2008

Behind The Scenes Tour Potawatomi Casino's Expansion
04.23.2008 Menominee Casino-Bingo-Hotel $80 million expansion
02.22.2008 Beloit Casino Project Seeks Support
01.08.2008 Potawatomi Casino Will Introduce Off-track Betting