Michigan Indian Casinos
Maps, Hotels, Photos, Websites, Poker, ...
There 19 Indian casinos in Michigan which are owned and operated by 14 federally-recognized Native American tribes. In addition there are three state-licensed casinos in Detroit.
Voted "#1 Favorite Casino | Best Slots"
Favored by 500 Nations players,
Bovada
is a world-class online casino with slots, poker, table games, sports and horse betting! Join now and get the $3,000 Welcome Bonus. US Players Welcome

News
07.28.2017

Kewadin Casino in Lansing is denied by U.S. Govt
07.28.2017

Lac Vieux Desert Resort renamed Northern Waters Casino Resort
07.19.2017

Soaring Eagle plans $26.5 million renovation
06.29.2017

Eagles Landing Casino will add hotel and more slots
06.14.2017

Ojibwa II Casino begins expansion project
05.30.2017

Expansion update on the Ojibwa Casinos
05.18.2017

Island Resort and Casino wins Readers' Choice Awards
News Archive
Casino Locations
Select any of the casino locators below to search for Michigan casinos:
$5,000 Bitcoin Casino Welcome Bonus ...
Get the biggest bonus at
Bovada
when you make you first deposit with bitcoins. US Players Welcome

Michigan Indian casinos are listed below by county! To find a casino either: Click map or search the county list below.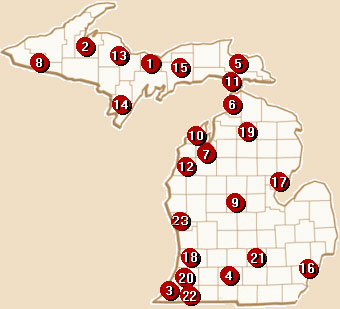 100 Free Spins + $2,500 Welcome Bonus
★
Plus Free Daily Bonuses up to 200%
★
Over 600 games!

US Players Welcome
VEGAS CREST CASINO
News Archive
12.20.2016 - 1,200 Food Baskets Donated by Four Winds Casinos
12.13.2016 - Ojibwa Casinos Release 2016 Gaming Distribution Info
12.06.2016 - Kewadin Casinos Host Christmas Tree Lighting
11.21.2016 - Renovations Planned for Ojibwa Casinos
11.15.2016
1,000 Food Baskets to be Donated by Four Winds Casinos
10.27.2016
$28.6 Million Paid by MI Tribal Casinos to State
10.21.2016
New CEO Named for Kewadin Casinos
09.14.2016
Million Dollar Jackpot Won at Four Winds New Buffalo
08.29.2016
New Fall Entertainment Line Up For Soaring Eagle Casino
08.14.2016
$40M Renovation Project Approved for Ojibwa Casinos
07.23.2016
Expansion Completed at Four Winds Casino Resort Dowagiac
07.22.2016
Ground Broken for Treasure Island Casino Expansion
06.29.2016
Dacey's Taphouse to be Added at FireKeepers Casino Hotel
05.23.2016
MI Tribal Casinos Fight to Prevent Labor Board Encroachment
04.27.2016
Four Winds Casino Expanding in Southwestern MI
04.11.2016
Gun Lake Casino to Double in Size
03.31.2016
Over $1M Jackpot Won at Four Winds New Buffalo
03.25.2016
Four Winds Casinos Donate Over 1,000 Meals to IN and MI
02.14.2016
Church to be Sault Ste. Marie Tribe Casino
01.22.2016

New Security Measures at Firekeepers Hotel and Casino
01.11.2016
Construction Begins on Mackinaw City Casino
01.11.2016

Renovations Begin this Spring at Ojibwa Casinos
01.07.2016
Expansion Planned for Gun Lake Casino
12.21.2015 Four Winds Casinos Donates Food Baskets
12.09.2015 New Golf Course to be Built at Island Resort & Casino
11.03.2015 $100,000 to be Won on Dec 06 at Four Winds Casinos
10.06.2015 Public Hearing to be held for Mackinaw City Casino
08.24.2015 Plans Proposed to Renovate Chocolay Casino
08.19.2015 Gun Lake Casino Stops Payments to State
06.24.2015 MI Tribe Approves Mackinaw City Casino Project
06.13.2015 Little River Casino Resort to Be Renovated
02.24.2015 Plans for Fruitport Township Casino Moves Forward
12.15.2014 Baraga casino Denied in Election
12.02.2014 Four Winds Casino to Give Away $185,000
10.02.2014 Gun Lake Casino Allowed to Stay Open
09.29.2014 New Off ramp Design for Greektown Casino
06.12.2014 Saulte Ste. Marie Chippewa Indian tribe Applies for Casino Land Trust
05.05.2014 Four Winds New Buffalo Announces Heart Performing Live
03.25.2014 $509,036 Jackpot Won at Four Winds New Buffalo
02.18.2014 Pokagon Band of Potawatomi Indians Gave $44 million Additional Contributions
02.03.2014 Four Winds New Buffalo Announces Diana Ross In Concert
11.30.2013 MI Casino Agreements between Tribes and State to Expire
10.14.2013 Muskegon County Casino wins one more approval
10.13.2013 Little River Band Casino is One Step Closer to happening
09.17.2013 CEO of Saganing Eagles Landing Casino to Review Expansion Plan Alternative
09.12.2013

MI Court Starts Session Tribal Land and Casinos On Topic
08.14.2013 New Parking Lot at Gun Lake Casino Might Bring More Additions
07.01.2013 U.S. Supreme Court to rule on Bay Mills Casino
06.24.2013 Case for Bay Mills Casino Vanderbilt heads to Supreme Court
06.03.2013 Millions In Jackpots Paid At Kewadin Casinos
05.10.2013 COO and GM announced for Four Winds Casinos
04.29.2013 Four Winds Dowagiac casino Opens
04.24.2013 Four Winds Dowagiac prepares to Open
02.26.2013

Four Winds Dowagiac Gets Community Support
01.04.2013 Four Winds Casino Gives Away $744,966 Jackpot
11.14.2012 Tribe asks federal court to dismiss Lansing casino lawsuit
11.01.2012 Kedawin Lansing Casino Project receives land parcel
09.26.2012 Mackinaw City Casino planned by Odawa Indians
09.11.2012 Opposition over Kewadin Lansing casino may stop project
08.14.2012 New Electronic Roulette Machines added to MGM Grand Detroit
08.06.2012

MI Group says Casino Proposals are Unconstitutional
06.26.2012 Petition to build more casinos in Michigan submitted
06.14.2012 Vote passed for Four Winds Dowagiac Casino project
05.13.2012 Casino Competition from Ohio may hurt Detroit Casinos
04.11.2012

Petition for possible New Casino in Grand Rapids
04.02.2012 MotorCity Casino Hotel offers Points for Buying New Car
03.20.2012 Kewadin Lansing Casino Project Gets One Step Closer
02.13.2012

Lansing Casino Opposed by State
01.29.2012 Tribe plans to buy land for Kewadin Lansing Casino
01.23.2012 Kewadin Lansing Casino proposed
1.03.2011 More Progress made On FireKeepers Casino New Hotel
10.24.2011 Employees at Greektown Casino Agree on New Four Year Contract
10.18.2011 Growing Support for Several New Casinos in the State
09.15.2011 Greektown Casino Gets Read to Open SuperPit
09.12.2011 Greektown Casino-Hotel completes First Phase of Remodel
08.30.2011

Four Winds Hartford is now Open
08.29.2011 Four Winds Hartford Gets Ready to Open
07.13.2011 Revenues for Greektown, MGM Detroit, and MotorCity Casino are up
05.07.2011

Job Fair for Harford's Four Winds Casino held at High School
04.19.2011 Detroit Casino Tax Increase
04.12.2011 Hartford's Four Winds Casino to open in August
03.31.2011 Michigan Is Yours campaign to build 7 new state casinos
03.31.2011 Possible 7 new casinos for Michigan
03.01.2011

Expansion at Firekeepers Casino
02.26.2011 Woman wins $41,444 jackpot won at Gun Lake Casino
02.16.2011 Robert Anthony is New Gaming Board Member
01.26.2011 Four Winds Awards $100,000 in Diamonds
01.20.2011 Vanderbilt Casino closes to prep for re-opening
01.12.2011 Lakes Entertainment Reports Update to Ohio Casinos Project
12.28.2010 Bay Mills Indian Community Defends Opening of Casino
12.21.2010 State orders Bay Mills to close Vanderbilt casino
12.08.2010 Bay Mills Casino Vanderbilt to open expansion in January
12.07.2010 Gun Lake Casino receives first slot machines
12.02.2010 Four Winds Casino announces New Years Eve promotions
11.24.2010 MotorCity Casino Hotel Player Wins $1,561,371 Jackpot
11.06.2010 Site drawing for Muskego County Casino released today
11.03.2010 Bay Mills Resort & Casinos' adds new gaming facility
10.29.2010 Kewadin Casinos Celebrates 25 Years with Party
10.06.2010 Four Winds Casino announces October promotions
09.18.2010 Gun Lake Casino to open in February
09.07.2010 Four Winds Casino giving away 2010 Jaguar XF and cash
08.26.2010 Four Winds Casino offers $1M on NFL picks
08.24.2010 Michigan's most popular slots!
08.06.2010 Four Winds Casino's $100,000 Labor Day Weekend
07.20.2010 Gun Lake Casino wants January opening
07.13.2010 "Best Michigan Casinos" by Survey
07.08.2010 Little River Band pushing casino proposal at Great Lakes Downs
07.07.2010 Four Winds Casino receives 15 awards for excellence
05.21.2010 Four Winds wins 7 categories of 2010 Best Of Awards
05.03.2010 Indian casinos are exempt from smoking ban
04.17.2010

Campaign to build 7 new casinos in Michigan
04.15.2010 Detroit's 3 casinos see hiked revenues in March
03.22.2010

New Indian casino could be coming to Muskegon County
03.02.2010 Two proposals to expand gambling in Michigan
02.01.2010 Gun Lake Casino construction on track
01.04.2010 Indian casinos exempt from 2010 smoking ban
11.30.2009 Windsor casino revenues hurt by passport restrictions
11.30.2009 FireKeepers Casino giving away $1 million in December
11.24.2009 Greektown Casino giving away $330,000 in December
11.02.2009 Greektown will open new poker room
09.12.2009 Four Winds Casino Resort receives 24 'Best' awards
09.09.2009 Gun Lake Tribe breaking ground on $157 million casino
09.08.2009 FireKeepers Casino offers bingo sessions
08.24.2009 Roadblock removed for Gun Lake Casino
08.18.2009 Gun Lake's proposed casino site is now reservation land
08.11.2009 Four Winds Casino unveils new smoke-free slot room
08.05.2009 Firekeepers Casino celebrates grand opening
07.07.2009 Four Winds Casino Resort has wins major reader surveys
06.22.2009 Odawa Casino Resort announces Gourmet 2 Go
05.19.2009 FireKeepers Casino will open early August
04.28.2009 Four Winds Casino starts new bus service from Benton Harbor
04.15.2009 Gun Lake Casino remains on track
03.24.2009 FireKeepers Casino completes 2,078 parking-space structure
03.12.2009 Greektown Casino offers $99 room rate
03.12.2009 Supreme Court ruling may not stop Gun Lake casino
02.17.2009 Gun Lake Casino land taken into federal trust
02.13.2009 Little River Band casino plans proceed at Fruitport Township
02.12.2009 Burt Lake Band plan $125 million casino in Sturgis
02.12.2009 Michigan senate passes compact for Gun Lake casino
02.05.2009 Island Resort & Casino hosts satellite poker tournament
02.04.2009 Judge approves loans for Greektown Casino hotel to open
01.26.2009 US Supreme Court clears Gun Lake Casino
01.25.2009 Fed drops lawsuit against Kewadin Casino St. Ignace
01.14.2009 FireKeepers Casino to hire 1,500 employees
12.17.2008 Turtle Creek Casino wins architectural award
11.24.2008 Little River Band's land-buying spree in Fruitport Township
11.13.2008 Greektown booking rooms before February 12 opening
11.01.2008 FireKeepers Casino reaches construction milestone
10.09.2008 The Greektown Casino is for sale
09.12.2008 Promotions at Blue Chip, Four Winds, Harrah's and Majestic Star
09.11.2008 Michigan smoking ban status
09.09.2008 Motor City Casino's $300M expansion
09.08.2008 Little River Band buys more land in Fruitport
09.02.2008 Four Winds Casino planning expansion
08.28.2008 Greektown Casino debuts 600 new slots
08.25.2008 Hannahville Potawatomi pursue casino near Detroit airport
08.20.2008 Gun Lake casino delayed again by court
08.18.2008 Greektown Casino construction will meet deadlines
08.14.2008 Muskegon county to vote on Little River Band casino
08.03.2008

MotorCity Casino

07.30.2008 Greektown Casino enters final phase of construction
07.29.2008 FireKeepers Casino opening in summer 2009
07.24.2008 Four Winds Casino Resort Celebrates Its First Anniversary
07.18.2008 Muskegon County Board supports Little River Band casino at Great Lakes Downs
07.17.2008 Little River Band's buys Great Lakes Downs
07.15.2008 Greektown To Hire 400 New Employees
06.20.2008 Gun Lake's casino in final court fight
06.10.2008 Gaming Board lets Greektown continue bankruptcy plan
06.05.2008 U.S. House nearing vote on Romulus casino
06.04.2008 Judge OKs $51M Greektown financing for construction
06.02.2008 Kewadin Casinos win five awards
05.30.2008 Greektown Casino files for Chapter 11 bankruptcy
05.20.2008 Greektown Casino faces "show-cause" hearing June10
05.19.2008 New Turtle Creek Casino & Hotel to open June 17
05.07.2008 FireKeepers Casino completes financing
05.06.2008 Sault Tribe sells 40% of Greektown Casino
05.02.2008 Gun Lake Tribe wins key court decision for casino
04.21.2008 Caesars Windsor opens June 19th
04.16.2008 Gun Lake Tribe's compact may become model
04.10.2008 $1 Billion offered for Greektown Casino
04.09.2008 Greektown given deadline of April 30th
04.03.2008 Conyers' committee opposes Indian casino bills

03.25.2008 U.S. House rejects Romulus and Port Huron casino bill
03.24.2008 State and tribes settle keno dispute
03.12.2008 New Turtle Creek Casino opens June 17th

02.27.2008 Firekeepers Casino Construction Job Fair Tuesday 3/4 (Battle Creek)
02.15.2008 House Committee Approves Bills for Romulus and Port Huron Casinos
02.13.2008 Muskegon Makes Agreement with Lac Vieux Desert Band
02.12.2008 Second Tribe Presents Muskegon Casino Plans

01.24.2008 Casino Windsor Transforming into Caesars Windsor
01.08.2008 Fed Rejects Romulus Casino Plan
01.07.2008 Prosposed Casino in Muskegon
01.02.2008 New Standish Casino Opened New Years Eve

12.18.2007 FireKeepers Casino Will Open Mid-2009
12.11.2007 Smoking Ban Bill Excludes Casinos
12.27.2007 Saganing Eagle's Landing Casino Delays Opening

11.28.2007 MotorCity Casino Hotel Opens
11.16.2007 US House Stalled on Port Huron and Romulus Casinos

10.23.2007 Proposed $2.4B Muskegon Waterfront Casino Resort
09.19.2007 New "Saganing Eagle's Landing Casino" Opens December